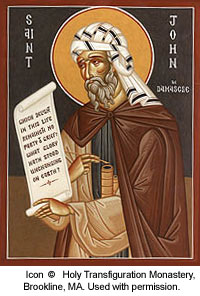 Resources for St. John Damascene

Also called John of Damascus
names means literally "streaming with gold"
Doctor and Father of the Church
Byzintine Monk and Priest
Best known for
Severed Hand was Restored
According to tradition, a Muslim caliph unjustly ordered that Saint John's right hand should be cut off and hung up for public display. Saint John Damascene wrote in defense of sacred icons and was thus against the iconoclasts. Emperor Leo falsely accused the saint of treachery, and his hand was taken as punishment. Some days after this despicable act took place, Saint John prayed for the restoration of his hand so that he could continue to write in defense of icons. Saint John prayed fervently before the icon of the Blessed Virgin, and fell asleep in prayer. During his sleep the Mother of God reattached his hand to restore the saint.
Coloring Pages
St. John Damascene Coloring Page
(Catholic Playground)
Video
St. John of Damascus
(Apostleship of Prayer, 2 min)
Islam, Holy Icons, and St. John of Damascus
(Trisagion Films, 30 min)
Audio
Saint of the Day
(Franciscan Media)
Learn More
St. John Damascene, Pray for Us!