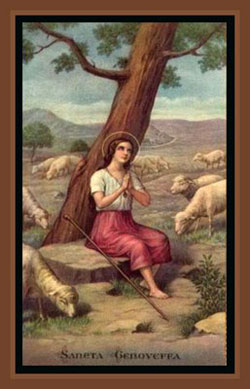 Coloring Pages for St. Genevieve and other resources
St. Genevieve. A shepherd girl, right? Yes, but more. At the age of 7 she dedicated herself to God. She is credited for saving Paris from the invading Huns. She had prophetic visions and even had great influence over the king of France. Her enemies tried to drown her. Her body was burned during the French Revolution. She is one of the patron saints of France and is often pictured with Joan of Arc, another patron of France. St. Genevieve is seen with a loaf of bread to represent her generosity.
Coloring Page
St. Genevieve Handwriting
"St. Genevieve, pray for us"
manuscript
cursive
Learn About
About/Listen (catholic.org)
Video About (Catholic Online, 3 min)
Food Ideas
Make bread. St. Genevieve images often shown her with bread to show her generosity to those in need. She is said to have provided bread for Parisians when they were under siege by the Franks.
St. Genevieve, pray for us!